The crisis in Tanzania is big… The new Corona virus has also been detected in Tanzania and this has a serious impact. Schools are being forced to close, which means a lot of children are missing out on meals and a safe place to stay. A number of children who were staying at the boarding school had to go back to their family. This means going back to poverty. On top of this, prices of food are going up rapidly. This combined with a lack of sources for income is creating a big challenge for the project. The school is missing out on school fees and volunteers can no longer come. Local markets are closing, which means food has to be bought further away. All of this shows how much the project depends on charity and the donations of our volunteers.
On the positive side we see that solidarity amongst people is growing bigger. The amount of free donations we received has gone up. In total we managed to collect 658 euro. Four children have also found sponsors who are willing to sponsor them for one year and help them out. This together with a fundraise done by Lynn Van Mulders in march gives us a total of 3320 euro, which we donated to our partner NGO. A part of the money raised by the free donations has already been used to buy 1000 kg of corn, 200 kg of rice, 50 kg of sugar, a big amount of salt and oil for cooking and other supplies.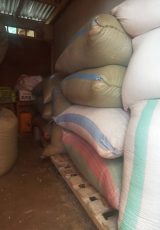 A big thank you to everyone who made this possible! You are so important.
We still have a long way to go to face these challenges and financial support will be crucial for a while.
But united we stand strong!